You're not drinking one year's vintage
You're drinking 30 years of Forrest.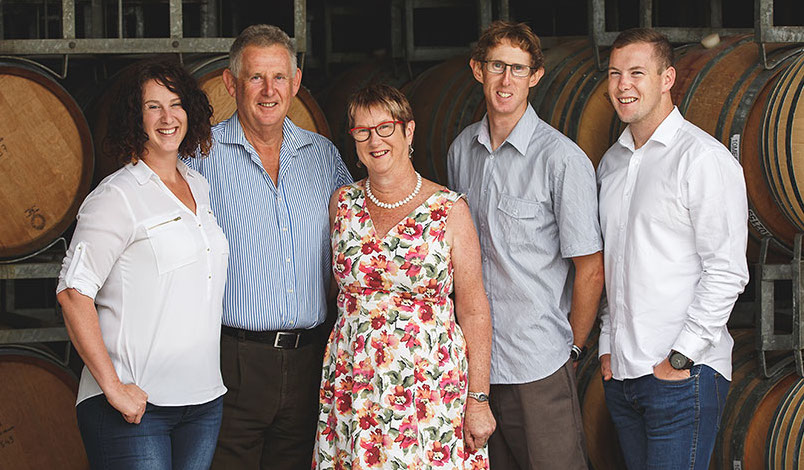 Just outside of Renwick, in Marlborough, John and Brigid Forrest have been crafting wines since the late 1980's.
Returning to family roots and generations of farming in the Marlborough region seemed a natural progression for the couple after successful careers in scientific research and medicine. So the young family returned from living and working overseas amongst the burgeoning wine industries of California and South Australia to get a start on a fairly green New Zealand wine industry.
The first vintage for Forrest Wines came in 1990, when an over-filled red wine fermenter "accident" resulted in a trophy winner Merlot Rosé.
Fast forward almost 30 years; many awards and accolades, 5 labels and vineyards across the country. Forrest is set for generations.
2015
Beth, John, Brigid, Sam and Reid
1988
Reid, John, Beth, Sam and Brigid
1990
John & Brigid
Renwick Cellar Door Inauguration
Dr John Forrest
Dr John William Forrest was born (1955) and bred in Marlborough, New Zealand. A PhD in Neurophysiology decided to become a wine grower and returned to Marlborough in 1988 to establish Forrest Wines alongside his wife Brigid. Lower alcohol and screw cap pioneer, he is known for pushing the boundaries in New Zealand wine.
Dr Brigid Forrest
Alongside the day-to-day involvement in the vineyard, winery and administration, Brigid has served 30 years as a medical doctor working in General Practice, specialising in pregnancy care, birth and families, and then as a community geriatrician managing the physical and mental health of older people and then Hospice, ensuring that people can live life fully to the very end. 
Beth Forrest
General Manager / Winemaker
Masters in Oenology from Adelaide University, Beth brings with her a wealth of knowledge, vibrancy, youth and an infectious passion for winemaking,  continuing the innovative, cutting edge and the sometimes mad scientist theories that have made Forrest what it is today.